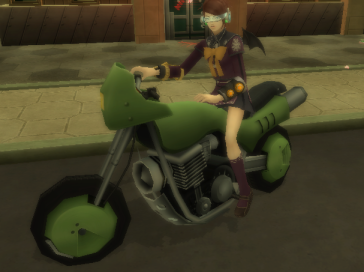 New content has arrived and we face a couple more FCs, three in total. First off a little comment on the new bikes of our content update. Cute, I really think they are cute. Not necessarily the look of them is awesome, but the whole idea is fun to enjoy and mess around with.
To be able to toy with one, you need to get a 30 day pass, for 500AP each. Kind of a bummer, but consider mount rings cost a simular amount of AP as well (last longer though...). A small fee is then used to rent a bike from any terminal and you can cruise around like a pro. A first person view is accessable in field maps, adding a little spunk to the whole thing.
Riding the bike is what cracks me up the most. Instant and constant wheelie popping makes me laugh. After a while it gets boring, as you get used to it and the whole wheelie thing gets old. I must say though, it offers plenty of panty shot material as seen in the picture at the bottom. ;D
Enough about the bikes, time to get to the FCs of this week!
Heart's Delight - 600AP/300AP
This FC is sort of confusing actually. It says 600AP, but only charges you 300AP. @.@
Anywho, this is a melee weapon based FC, which actually is the only FC this week to introduce new weapons/items to our server. These two are:
Burning Stag and Combat Dancing Fan (left picture)
Quite frankly, the only fashionable and noticable item in this FC set is obviously the new fan. With a mountain and a sky displayed it offers quite an alternative to our other fans we have available in our server.
Burning Stag is kind of nifty, but not too good looking. I guess its just a personal preference thing. Either you love it or you hate it. Personally I do not really care for it.
The rest of this FC just offers some previously released accessories, nothing noteworthy.
This FCs fashion rating is 5/10. Only good looking weapons are rare and hard to get. You cannot really do anything else for your toon with the rest of this FC's content.
Pandora's Treasures - 300AP
This is actually a pretty fun FC. It rereleases some of our already released sets as well as revives some of the older accessories we have not been seeing for quite some time.
General sets (right picture), High School outfits and some other loved sets make this a tastey fashion FC.
The cute little doctor set gets revived for girls and the boys can go Agent X with the dark and handsome agent set.
The General sets are nice and complimented by another asian culture based set, Red Phoenix. These are both really nice looking sets and work well around some of the themes presented in this game.
An old favorite is rereleased as well, players can cosplay as the sexy Nekomata demon or the dashing Setanta. Each of these sets offering a unique accessory a lot of people love, e.g. Setanta Scarf, Nekomata Mask.
With some comical super huge weapons and a nice set of small accessories, this FC has a down right fashionable set of extras. If you are into fashion and are wanting to cash in on some treats, this FC is mae for you. 9/10
Sugar 'N' Spice - 600AP
This is yet another nummy FC full of fashion goodies for collectors and fashion newbies alike. It rereleases some of the coolest old school sets and has a ton of cute accessories and items to comliment your fashion ideas.
With the single female sets like Maid and the St Hermelin II, this FC tends to lean and support female fashion more than it does male. Cute stuff is still cute stuff.
Old School Chaos set is rereleased here as well, just like the loved Demon Summoner sets and of course the all beloved Seven Sister sets. All of these were amongst the first sets to be released in our version and hold a lot of fond memories for quite a lot of us. It is a nice thing to see they are coming back!
The extras in this FC are cute and furry? With hairy hair-dos and cute garm ears, it offers a little cute touch to your apparel. The Scarves and the handbag are nifty extras you can that pass on a special vibe.
This FC is really nice, however I still have to give it a lower score than the other good fashion FC of this week. Reason to this is that it costs 600AP and offers (in game) cheap sets at rare rates. Its loaded with extra goodies, which is the only reason why this FC still gets a 7/10.
Well that pretty much sums up this week's review. Quite a lot to be seen this week. Awesome FCs and cute bikes can spice up your tastes this week.
Cheers~
Bleach